Destination sites give you all the wrong feedback and encourage you to do all the wrong things. Destination sites often result in the creation of shared media, which presents brands many challenges. Do you own your destiny?
Destination sites are alluring to brands. They draw you in. The hook you on their magic. That's when everyone on your marketing team becomes a sinner. So let me explain by way of the 7 deadly sins. How many have your committed?
Marketing's 7 Deadly Sins of Facebook (and other Shared Media Sites)
1
Sloth = Lazyness = Why do I need to do other things when I have this?
That's the rub with sites like Facebook. They are a hamster wheel. They keep you busy. They fill you with self importance, they overload you with metrics and they make you lazy.
Sites like Facebook make you complacement.
They make us feel busy, and don't give us time to think. We forget we are not in control.
This is not owned media. We get lazy at building our content and creating engaging experiences where we own 100% of the experience.
2
Envy = Who Else Has More Than Me?
Who's got more followers that you? Who's got more engagement? Who's got better content
If you don't leave a site like Facebook without at least a twinge of envy you are not immersing yourself in the experience. And that's the problem.
3
Greed = Who Doesn't Leave Wanting More?

Sites like these always leave us wanting more. We got this attention so easy, surely we can get more.
Instant feedback is addictive, but deceptive.
They help us lose our senses. We forget our goals. We forget that this is not our media.
We don't own the direct relationship, so we are always left wanting more.
We get greedy. We get needy.
4
Lust = Why didn't I think/create/act like You?
When we see other people's actions we can't help but feel envious. We covet their success. We covet other people's ideas. Your are left wanting more and feeling deficient.
You can't leave sites like Facebook without feeling a sense of envy and lusting for something someone else has, something they created, something someone else contributed.
Why didn't I think of that? Other people's success is very attractive.
5
Pride = Who else is as good as me?

See what I did. Look at me, see what I've got. Looks how many likes I got. Look how many followers and fans I found. I'm smart. That's what social networks make us think. When we do good, we feel an insane level of pride and achievement.
When you do good, when you engage and when you emplify, how does that make you feel?
You want to tell the world how good you are, for all those moments you felt deficient, now is your time to gloat. Pride is what you feel when all your metrics are heading up.
6
Anger / Wrath = I can't believe they thought of that!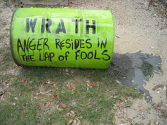 It's easy to get mad in social media. You can get angry for many reasons. It's such an open playing fields. It's easy to bench mark yourself with others. It's easy to feel frustration.
You can get angry with the destination site, but what do you do about it? If they change their rules or if you unknowingly break their rules, you have nowhere to go.
You can get angry with others who have more influence or simply play the game better than you.
Getting angry won't help.
7
Gluttony = You and Your Audience Consumes to Excess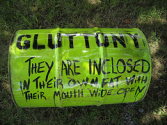 You spend too much time taking on board the ideas of others. And encouraging others to gorge on your content.
Attention is finite. Beware excess.
Tell the truth. How did you do?
How about you? Have you thought about shared media? Have you thought  about how we need to take less of a silo-minded view of media?
How do you feel about social destinations?
Image Credit: 78934783@N05