Sometimes we focus so much on what we do, that we forget what we replace.  To make your ideas work, you simply need to provide context. A why.
We know lists work, but why do Listly lists work better than HTML lists. With Halloween looming we thought it would be fun to use a Zombie theme to compare Listly to HTML lists. It's a bit of an unfair contest but comparing features and experiences is a great way to help our users and prospective users see why Listly is a smarter choice. Check out the list and explore the slide-deck, but most of all leave us your feedback.
Tell us what resonates. Tell us what is stopping you from using Listly and embedding Listly in your blog.
Oct 14, 2013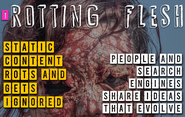 No list is ever complete. The world changes and so things needs to be added, things become obsolete. Opinions change.
We believe you can create less content, by keeping your existing content fresh. We believe this earns you better search rankings too.
Great Listly lists are lists made my many people. That makes them trusted and share-worthy
2
Let's Readers be Co-Authors
Oct 14, 2013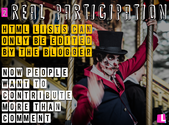 Traditionally publishers publish and consumers consume.
We believe everyone wants to contribute to topics they care about.
People want to vote and contribute to a single aggregated view, which is why comments don't work.
3
Embeddable (Like Slides)
Oct 14, 2013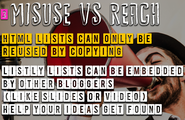 Don't lock you best content away inside your blog. Don't force people to copy your ideas.
Let them embed your list and extend it. & put you idea in-front of many more people.
Listly is simply a content platform focussed on embeddable lists instead of slides or videos.
4
Share both Content & Context
Oct 14, 2013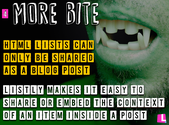 Listly lets you embed OR share both lists OR items. This gives readers context AND content.
Embedding is longer term form of sharing. We also share by contributing to lists.
Sharing is a way of life. When people share they get more connected to your ideas. That gives your ideas more context in the world.
5
Easy to Edit beyond Publishing a Post
Oct 14, 2013
We are locked in Gutenberg thinking stopping us changing content beyond the publishing moment.
We believe collaboration is the solution to evolving your content beyond publishing.
We make it as easy to edit a post years after publishing as it is to publish a list in the first place.
Oct 14, 2013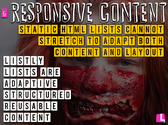 Your content should not be fixed to a specific format or width. Responsive design is typical for blogs, but offering responsive embedded content is new.
This is an area of deep expertise for Listly
7
Layout/Design <> Equal Content
Oct 14, 2013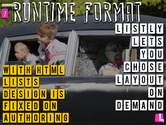 When you edit a blog post, you are creating content in a set format. With Listly this is not the case. We offer mutliple layouts in which to render your content.
This makes Listly a true content plaform
Oct 14, 2013 - slideshare.net - 43
Are you still using static html to manage your lists? Have you heard of Listly - Think slideshare for lists. Explore 7 reasons why your HTML list feels like zo
I've featured a slide-deck on the list. Items from the deck link back to items on the list.
Image Credit: madely87. Credit for all the Zombie images are included in the slide-deck.