Twitter Lists are awesome. Or not?
What's your thought? You have a view. Do you love to hate them?
Can we change your mind?
Smart people segment their social channels by using Twitter lists: Customers, Prospects, Bloggers, Analysts, Journalists, Influencers, Competitors etc
If you aren't following enough people to need Lists you are missing the point.
The challenge is that it is a pain to manage Twitter Lists.
List Management on Twitter is an after thought.
Twitter is social
Twitter lists are not
The social web is run by the 1% rule.
Create 1%
Contribute 9%
Consume 90%
We enable contribution (the 9%) that's not possible today and that resource means your lists get better over time. Your lists become more valuable to you and more valuable to others.
Listly Twitter Lists become embeddable on your blog as people directories. They become a valuable source of organic traffic. (Plain Twitter lists when embedded only show recent Tweets).
Listly Twitter Lists help people find people and connect. They help people network by tagging who you know and who you'd like to know. They help people join the community. The let people nominate others that would want or need to be in the community.
That's it.
We remove the friction that stops people making great Twitter lists.
We remove the barriers to help you get more from Twitter.
We remove the barriers that stop people connecting and networking.
Here's 11 reasons why we think you'll fall in love with Twitter lists (again). Perhaps this will be your first time to love Twitter lists. Do tell.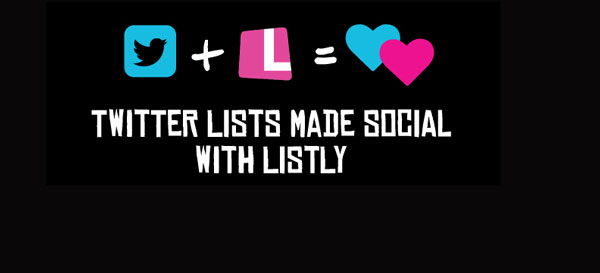 Eleven reasons to fall in love with lists
Twitter Lists to be Specific.
1
Organize - Easy to Share items or lists on Blogs & Listly
Share a whole Twitter list
Or just a person
Share on Listly
Or share embedded in blog posts
2
Collaborate - Let people add to your Twitter lists

Adding people to your Listly list will add them to your Twitter List
Curate your List by accepting and rejecting people's suggestions
You can auto approve by switching moderation off
3
Evolve - Lists are never complete
When people find a valuable lists they will likely vote or contribute
People discover lists by search
Lists get more valuable over time as more people help
4
Embed - Choose from multiple layouts to suit your blog
Twitter Lists are great content
Easier to embed & subscribe than to copy
Listly makes it simple to embed people directories on blogs
5
Get Found - Embedded lists are a rich source of organic content
Listly's Wordpress plugin makes the list a native part of your blog post.
Search engines see exactly the post you see.
6
Respond - Lists are sortable, filterable & taggable
Listly Lists are fully responsive content
They adjust dynamically in blog posts and sidebars
Works on Tablets, Desktop & Mobile
On Listly or blogs
Lists are interactive so you can sort & filter as needed
7
Ask - Be clear who you want on your list

Ask for help
Not once but many times
Write down what you want so when people discover your list they know how to respond
8
Subscribe - Jump to the list on Twitter & Subscribe
By subscribing to a list your can follow their tweet stream via any of the major Twitter tool
Tweetdeck
Hootsuite
TapBot
etc
9
Network - Lists are a great way to engage people
Adding people to a list is a great way to engage
Listly lists let you tag who "You know" or you'd "Like to know"
It's a great way help people connect
10
Measure - track list views & votes on blogs & on Listly
As people embed your lists you can track which blogs they are embedded on
You can see where most engagement occurs
You can also track how many people subscribe to your Twitter List
11
Manage - reuse lists, dedupe & bulk import @handles
Save yourself time
Fix up your old lists
Add people on mass from other lists
Simple power tools for lists
Here's the workflow:
6 Steps to Rocking Your Twitter Lists on Listly
3
Moderate, Share & Celebrate Contributions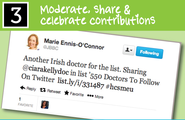 4
Let anyone embed your list. Keep asking for help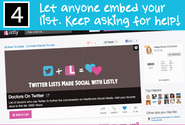 5
Organic Search Gets Your List Found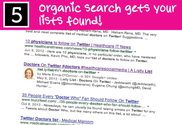 6
Anyone can subscribe to your list on Twitter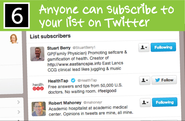 So how do you find Twitter lists? What are your biggest challenges?
What lists do you think you can create and build with the help of your audience?
Can you become a go to source for Twitter lists in your niche?
This feature goes live in the morning of December 11th.
Reasons to Love Lists: As a slideware