Yesterday Lee Carnihan shared this deck with me and I was so inspired.
I found myself exploring and resharing my old deck on "Love Connection" exploring how to create content we love.
Next minute I'm searching and in a few minutes I'd made a list of 10 awesome decks on Slideshare. This morning I thought I'd share the process. It took minutes.
WHAT  MAKES GREAT CONTENT?
It was quick, simple and effective. By embedding my list on this post I now have a highly shareable resource that anyone can add to over time. It's a piece of living curation that can change slowly over time.
I also turned Lee's deck into a Listly  to show Lee  how it would look.  I think it looked really awesome. How about you? Which layout do you like? Did you know you can change the layout of the list dynamically on Listly or on a blog post that embeds the list?
23 CRITICAL, COMBINABLE ELEMENTS TO CREATE EMOTIONAL, SOCIALLY-COMPELLING WEB CONTENT
Does your audience literally understand what you're saying?
Are you using their language, phrasing and words?
Or using marketing spiel?
2
BE A STORY, OR LIKE A STORY

Nothing grabs our attention or holds it quite like a story.
Not all content can be written like a story of course but if it can, it should
3
BE AUTHENTIC AND ETHICAL

Is this really you speaking?
Do you say what you mean and mean what you say?
Promises mean nothing until they are kept.
No one needs a brolly in the bath.
Are you a recognised leader in your field?
Do people look to your content for guidance?
Does it set the standard?
Don't be a zebra.
Be a peacock.
If if doesn't wow, it doesn't win

Does it raise an eyebrow?
Does it get the heart racing?
Does it inspire action?
Are you the only one saying this?
Or are you a me-too?

You can't sell rifles and bibles.
Whatever device I choose to view your content in,
make it responsive to that device
11
BE APPLAUD OR AWARD WORTHY

Your content doesn't have to actually win an award,
just be good enough to deserve one,
or at least a round of applause.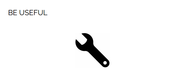 How does your content help me do what I need to get done?
13
BE LOCAL / BE CONVENIENT
Wherever I am, you need to be there too.
I want your content to fit around me and the things I am trying to do, not me fitting around you.
Giving something away encourages me to reciprocate in kind.
Gated assets aren't as attractive the first time we meet because you have yet to establish you can be trusted with my details.
15
BE LIKEABLE & SOCIABLE
Allow me to share your content and let me show my appreciation for it.
Let me tweet it, comment on it, like it, or give it a smiley face.
What is "likeable" will depend on local culture too.
16
BE COMMITTED TO THE CAUSE
Is the content you're creating your bread and butter?
Or are you just creating it because everyone else is?

Quite simply, give me your content when I need it.
Not when you want to give it to me
Does your content rank in search?
If not, where else will I find it?
Help me find it.
19
BE SEMANTIC: EVERYTHING IS RELATED
What is this bird? Where does it live? How fast do its wings beat?
What would I want to know next?
What should I know next?
What could I know next?
20
OFFER JUST ENOUGH CHOICE
Too much choice will overwhelm me and slow me down. It will confuse me.
It will lose you a sale. Give me just enough choice so that I feel I have a choice,
then let me compare quickly and easily.
Then let me buy.
Is your content revealing something I don't already know?
Are you saying something old but in a new way?
What will I learn?
And why should I invest my time in learning it?
22
SOLVE A PROBLEM OR RELIEVE PAIN
What's my problem? I might not know.
What I definitely feel is the pain of the problem.
Does your content help me solve the problem - list text hereand relieve the pain?
23
DON'T OVERWHELM ME, HELP ME FOCUS
The more call to actions you throw at me,
the less sense I can make of each one and the more likely
I am to choose "none of the above".
My biggest takeaway from my deck and from Lee's deck was that some of the best ideas had got buried in slides.
I didn't realize Lee's content was a list and the ideas were combinable.
I'd missed the 2 lists lost in side my deck.
The reason for this is simple. For most creatives the ideas come out in the wash. Ideas are work. They don't arrive fully formed. They take shape through iteration. I didn't sit down with these lists in mind. They emerged.
To make your content more approachable, more consumable, there is one simple step. Go back and revisit your best work,  your best content. Seek out the reusable components. Then take those ideas and transform them for other platforms – output them to Pinterest, Infographics, Listly, Slideshare and beyond.
You don't need new ideas, you simply need to reuse and optimize the ones you already have. The best stories are great for retelling.
I think my next step it to break out 2 lists from my deck. Here's one (5 minutes max).
3 things you need to create content people will love
Notice how in Lee's post I pulled out 23 things. Content is more effective when it's extracted as lists. It's more approachable and more reusable.
What lists do you have locked inside your best content?