In this post we introduce a new model for Content and dig into Psychology and specifically Maslow's Hierarchy of Needs.
We ask the question "Has content got needs?"
Is this deck we revisit Maslow's Hierarchy of Needs with a Content Marketing lens.
The social nature of content means there's a very close fit to Maslow's model.
Content is the glue that bonds and binds people. It's how we find other people that love what we love. The more you think about the needs or your content and the needs of your ultimate audience – your community – the more you will serve them and connect them.
This will let you, your content and your community play a higher level game.
Find your role.
I think I've found my role, as a sharer of ideas and builder of communities.
Have you found yours? Does your content serve and speak to your role?
Does authenticity sing through all that your create?
Can you see your signature on your work?
That's your voice, your fingerprint, your DNA.
In order to be successful content really does have social needs and building on a model like Maslow is just a logical step. Or that's what I believe. How about you?
Your content doesn't just meet your needs, it also needs to meet the needs of your audience. It needs to involve them and to give them a voice, a sense of belonging and so much more.
You can become the mouthpiece of a movement. The movement can become your mouthpiece.
Great content create a senses of belonging.
Great content begins conversations.
The more I dug into this idea, the more I felt it as a really good fit. Was Maslow a Content Marketer at heart?
He understood people and you need to too. That's not an option.
The connection to Listly to me is obvious. It's all about community, collaboration and mastery.
It starts with text and getting found, but can and should quickly elevate your game to a higher level.
I'm not the first person to do this and in fact I made a list as I was researching the idea. They are worth exploring.
Sep 02, 2014 - slideshare.net -

185
Social media crises on the rise - yet most companies are ill-prepared. Companies are quick to deploy the latest social media technology, yet most have not prep...
Sep 02, 2014 - laurelpapworth.com -

192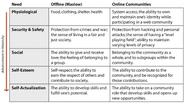 I've spoken a few times in workshops and written here on the bloggy (e.g. April last year) about Maslow's hierarchy of needs. Jean-Marie Guitera from Subversive Games mentioned it tonight at AIMIA Oline Games as if it was something new - I think he said no-one in the States was following it.
Sep 02, 2014 - steveradick.com -

166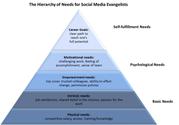 What do you need from your job to succeed? Good salary? Short commute? Work/life balance? Everyone has their own dealbreakers and must-haves - what's important to one person may not matter to another. These variables differ greatly from profession to profession too. I remember weighing a competing job offer some time ago that offered a [...]
What's your thoughts? Am I missing any examples?
Has content got needs?
I also explore these ideas here on Linkedin Pulse and also on Medium