Sep 10, 2014 - linkedin.com -

32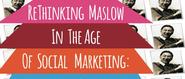 I took a fresh look as Maslow's Hierarchy of needs in the context in the age of Social. Content is the glue that bonds and binds you to your audience. People find you through your content. Content connects us (socially and topic-wise), content helps us become masters of our art (through knowledge and connections).
Sep 10, 2014 - linkedin.com -

26
Content used to be simple. In the beginning there were just Slides and Slideshare, Videos and YouTube, but over time things have a got a little more complex. Embed-ability has risen to the fore. And for good reason. The notion of a Content Network has emerged and people have seen the value of these types of content destination sites.
Sep 13, 2014 - linkedin.com -

28
The universe works in mysterious ways. Sometimes that fact takes a few months to emerge. I first heard of Lavacon while at the Intelligent Content Conference ( a Content Strategy event in San Jose run by Scott Abel that's since been acquired by J oe Pulizzi's awesome Content Marketing Institute).
Sep 20, 2014 - linkedin.com -

31

Nothing works in isolation any more. To be effective you need to bring togethers all the disciplines of content creation, search and social. Here's 7 growth hack tips that will help you integrate the different elements of your marketing strategy.
Oct 08, 2014 - linkedin.com -

26
Digital Media is a living, shifting melting pot. Nothing stays still long enough to name all the moving parts. We often give misleading names or classify new things the same as old things when they are really distinct.
via list
Also available via Linkedin uncurated, unordered and non-embeddable